Moustache Cup
It is a drinking cup with a semi-circular ledge inside. The ledge has an opening to allow the passage of liquids. for example tea, and to keep mustaches dry. It is thought that it was invented around 1830 by British potter Harvey Adams.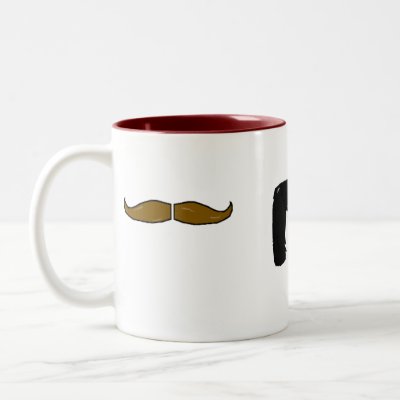 MOUSTACHE CUP! COFFEE MUG
by potatocrisps
A stylish alternative. Choose an interior color that complements your photos, images, and text. 11 oz. or 15 oz. Available in 6 colors. Dishwasher and microwave safe.

Moustache Cup Collection
- a cup to help the gentlemen protect their moustaches from being "soiled" by their coffee, tea or cocoa? Brilliant!
For the distinguished gentleman in Victorian England, drinking tea and coffee presented a problem. The steam from hot beverages melted the wax which was applied to moustaches in liberal quantities, making it drip into the moustache-wearer's drink. In the 1860s, the English potter Harvey Adams invented the Moustache Cup. This included a ledge, called a 'moustache guard', on which the moustache rested while the beverage could be sipped through a semi-circular opening.

This Moustache Cup and Saucer was presented to Colonel Joseph Henry Laye of the Cameronians. Laye began his military career as Ensign in the 90th Regiment of Foot in 1867, and progressed through the ranks until he became a Major-General, and was Colonel of the Regiment from 1910 to 1918. Laye died in 1938, aged 89. In his obituary in The Covenanter, Colonel Aubrey Maude wrote:

"We used to think of Laye as the best Adjutant in the Service. I think it was his commonsense and kindly heart made him so, and carried him to the front. Thesequalities and a great knowledge of his work made all the Non-Commissioned Officers devoted to him."

moustache cup with tea